ENTERPRISE TREEMAPS ON ANY DEVICE WITH HONEYCOMB THIN 6.0
Richardson, Texas (July 1, 2014) – The Hive Group, the world's leading provider of enterprise treemaps, today announces the release of Honeycomb Thin 6.0, extending and improving treemap functionality for users of iPhones, iPads, and Android smartphones and tablets. With no Java or other plug-ins necessary, Honeycomb Thin 6.0 also offers more flexibility when making deployment decisions for traditional desktop environments.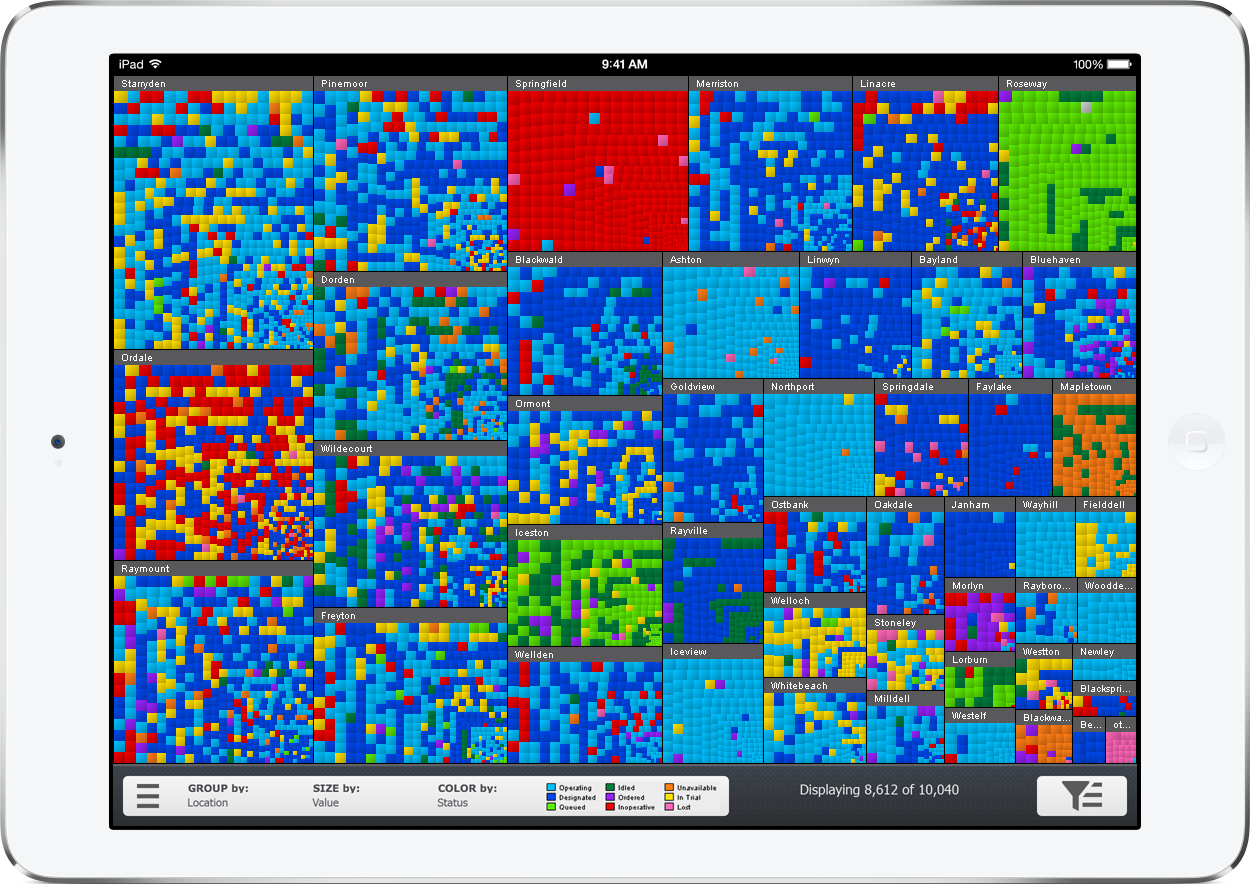 Honeycomb Thin was first introduced in 2007 with the simple objective of offering a "no plug-in" alternative for traditional desktop deployments. Today, its charter and relevance are greatly expanded, reflecting the ever-increasing portion of web traffic attributed to mobile devices. With smartphone and tablet users in mind, Honeycomb Thin 6.0 automatically adjusts its layout and control interfaces to optimally accommodate mobile usage on both larger tablets and smaller smartphones. Honeycomb Thin accommodates common multi-touch gestures such as pinch and swipe; and offers access to filters and controls with specific screen size and rotation taken into account—optimizing the use of screen real estate.

"We've improved Honeycomb Thin in several ways with the 6.0 release: offering more sophisticated cell label support, making the controls more user friendly, and optimizing the mobile interface for both iOS and Android devices. There was also significant work 'under the hood,' notably: Honeycomb Thin now accepts the same configuration parameters as Honeycomb Rich—which means Honeycomb Rich designers can build Honeycomb Thin applications without additional training," commented John Finkelstein, Director of Engineering at The Hive Group.

Jim Bartoo, CEO of The Hive Group, added, "We simply won't allow Honeycomb Thin to serve as a functionally-limited 'mobile version' of Honeycomb. We're very conscious of our customers' needs; and know that organizations turn to The Hive Group when building functionally-deep, operationally-relevant treemap applications. We believe no one else comes close to matching our capabilities. So our entire team is dedicated to ensuring Honeycomb Thin delivers the full vision—with nothing missing for our mobile users."

About The Hive Group

The Hive Group specializes in data discovery and visual analytics, developing advanced treemap interfaces for operational and financial analysis. Customers include major manufacturers, financial services organizations, logistics companies, natural resources companies, military branches, and many government agencies. The company's interfaces are used to analyze performance, manage assets, identify anomalies and trends, assess risk and compliance issues, and more. The company's patented Honeycomb® software has been commercially available for over thirteen years; and is its flagship offering. Sample Honeycomb applications are found at www.hivegroup.com/gallery/. The Hive Group also offers HiveOnDemand, the world's first cloud offering dedicated exclusively to treemapping. HiveOnDemand is found at www.hiveondemand.com.

The Hive Group is privately held with headquarters in Richardson, Texas. For more information, contact 972-808-0400, info@hivegroup.com, and www.hivegroup.com.

###
Honeycomb is a registered trademark of The Hive Group, Inc. HiveOnDemand and "Business at a glance" are trademarks of The Hive Group, Inc. All marks, products, and/or service names and symbols mentioned herein are trademarks and are the property of their respective owners.